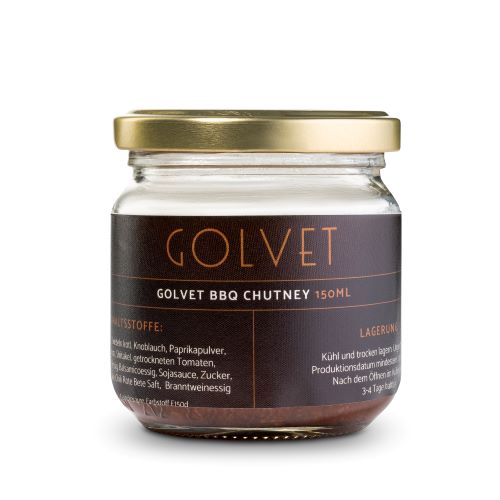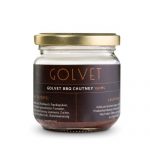 Golvet BBQ Chutney
10.00 €
Vegan vegetable chutney with ginger and chili
Description
Additional information
Reviews (0)
Details
The addition to every barbecue party! Our wonderfully fruity, spicy chutney is individually applicable and even 100% vegan.
The sweetness of sun-ripened tomatoes, fresh ginger and some chili
make the perfect topping and put any other barbecue sauce in the shade.
The subtle smoky note gives it that certain something and rounds off the taste completely.
Additional information
Volume

150 ml

Ingredients

Ginger, tomatoes, onions (red), garlic,
Mushrooms (Champions, Shitake), chili beet juice,
dried tomatoes, tomato paste,
Apple vinegar, balsamic vinegar, soy sauce, sugar,
smoke oil, liquid smoke, paprika powder, spirit vinegar
E150d dye, antioxidant,
Ascorbic acid

Allergens

Soy(F)
Sulphur dioxide / sulphites (O)

Storage

Store in a cool and dry place.
Can be stored unopened for at least 1 year from date of production.
Shelf life 3-4 days after opening in refrigerator.