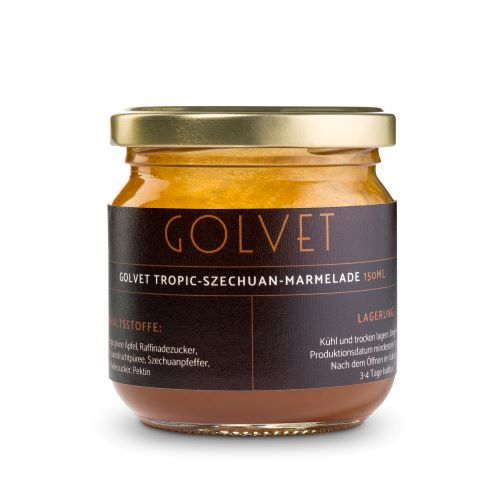 Golvet Tropic- Sechuan Jam
12.00 €
Tropical jam with Sechuan pepper
Description
Additional information
Reviews (0)
Details
The tropical feeling at home. From pineapple, mango and passion fruit we have a wonderfully fresh one,
summery jam conjured up. The discreetly used Sechuan pepper tingles slightly on the tongue
and thus brings a lot of excitement to the breakfast table.
But our Golvet Tropic Jam also goes perfectly with cheese, replacing the usual fig mustard.
Additional information
Volume

150 ml

Ingredients

Pineapple, mango, green apples, refined sugar,
Lemon juice, passion fruit puree, Sechuan pepper,
Gelling sugar, pectin

Allergens

Sulphur dioxide / sulphites (O)

Storage

Store in a cool and dry place.
Can be stored unopened for at least 1 year from date of production.
Can be kept in the refrigerator for 3-4 days after opening.